Who's online
We have 32 guests online
Neo SME Professional / Ultimate
---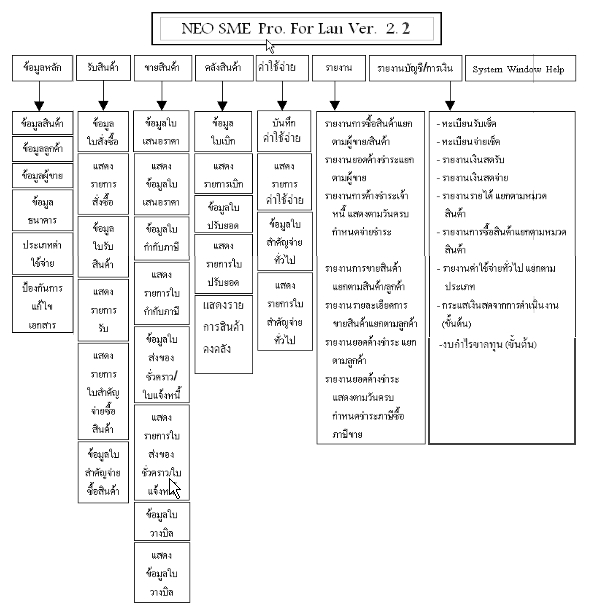 Software / Solution : Neo SME Professionall / Ultimate
Master Data
Main Data such as finished products,raw material ,customer and supplier with searching system.

Special record for uncountable product such as service by using no stock mode.

Bangking System for Cash Flow cash at bank and cash on hand and alsoReport and Analysis.

Expenditure System for any purpose such as administrative expense, actual cost.
Purchasing System
Purchase Order with showing all detail of supplier,material and products with searching system.

AUTO -Received with easy use. with searching system.

Voucher system wich one record then auto relation fo records and form.

Historical Data For report of receiving with searching system from supplier ID,Supplier Name, Product Name.
Selling System
Quotation System with showing all detail of customer,material and products with searching system.

Invoice and receipt : user can discount in cash or persent with identifying sales representative.

Delivery Form : user can transfer delivery form into Invoice and receipt automatically.

Automatic calculation VAT include or exclude.

Searching System from report by customers,by Invoice and receipt or by products.

Receivable System: user can check status at any time.
Stock System
Easy Update stock .

Stock Card with historical report for many purpose.

Stock Report for showing movement from suppliers to customers.

Stock Value at any single time.

Export Stock Report into excel form.
Expenditure System
Expense Record with full function and detail such as type, date ,receiver,due date ,type of payment.

Printing Pay in Form and Chque with reports.

Payable System. wich one record then auto relation fo records ,form and Voucher.
Reporting system
There are many reports with showing all detail sng searching system.
Financial Reports
Financial Reports such as Cheque Statement, cash book ,Selling Report and Profit/Loss Statement.
Benefits / Values
Special Design for SME System.

Ready to implement and using.

Easy access and extendable.

Include Training and user manual.

Free Consult for Program using.
Including Features
Company Profile: Name, Address and company information.

Reference Data: Type and detail, user ID and remarks.

Reporting System: Executive and Summary Reports with searching systems.

Editing mode with user recording for security system.

Back up and restore System.

Compatible with many kinds of printers such as Dot Matrix, Laser Printers and Ink Jet Printers.

Including many reports such as Cash Flow and Profit and Loss Statement.
---